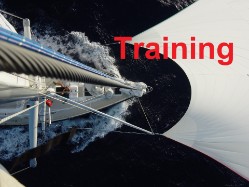 I am an RYA Ocean Yachtmaster Instructor and Examiner, as well as an RYA Radar and Diesel Engine instructor, with experience of teaching people from complete novices to sailors with an Atlantic crossing or two under their belts, on yachts from 28 to 68 feet long. Just so long as the yacht has a functioning kettle, it's a proper yacht.
The shorebased courses are run in partnership with the Roseland Outdoor Education Centre in St Just-in-Roseland which is an RYA Training centre with excellent facilities. If you would like me to come up and run a course for your group or crew, please just ask - all I need is a room in which to teach with enough desks for everyone to sit at (and, of course, constant access to a functioning kettle).
The Weather for Sailors course is aimed at people who have spent some time outdoors, primarily on the water, who wish to understand more about how the weather works, where to get information from and how to interpret and use it. No prior weather tuition is required and it can be taught in one very full day. Tailor-made courses can also be taught for specific customer needs, for example the ARC.
On the water training is done on an individual basis, and I am always happy to discuss your training needs and recommend suitable training providers if required, such as Sailing Logic who provide excellent race training for all levels.
The Shore-Based courses run are as follows, please click on them for each syllabus.
These courses can be arranged for groups of between 2 and 10 people, and are arranged individually, so please call and we can sort out dates to suit you. Please note that the RYA Diesel Engine Course is the exception to this rule - an engine is required so it is taught on the student's own boat with a maximum of 4 people.