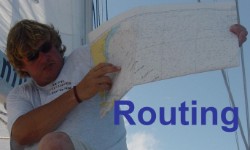 Routing
If you are on passage to an unfamiliar part of the world and would like to know a detailed summary of the conditions to be expected, with recommendations on the best route to take for you, then I can help.
Previous examples range from advising on a trip from Qingdao in NE China to San Francisco and less formal ones for voyages from St Mawes to L'Aber Wrac'h and Plymouth to Fowey.
A recent and very interesting job was the routing of Box Number 8 from the Canaries to Barbados. This was a rowing boat in the Talisker Whisky Atlantic Challenge rowed by Nick Moore and Toby Iles - they won overall and set a new UK record.
There is no upper or lower limit to the voyage length - if you would like an experienced and sympathetic eye to look over it for you and help with the planning, then just call.